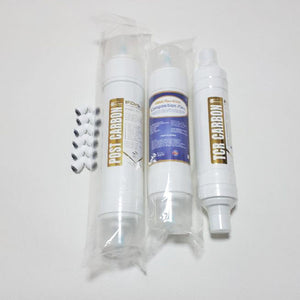 3pcs Water Purifier Replacement Filter Set Compatible for COWAY CHP-03AL/AR
Compatible Replacement Water Filter Set for Coway COWAY CHP-03AL/AR Water Purifier
Made in Korea
FREE SHIPPING from Korea
Compatible Models: COWAY CHP-03AL/AR
This filter set is NOT the Coway's original filters. They were manufactured to replace the original ones under the high-quality manufacturing standard by Filtech.
The materials are certified by NSF.
The label may change depending on OEM manufacturing.
Quantity:
1ea 8" Composition (Sediment + Carbon) Filter (Replacement for NeoSense)
1ea 11" Post Carbon Filter (Replacement for InnoSense)
1ea TCR Carbon Filter (Replacement for Fine Filter)
Plus 6 L-fitting
*This item DOES NOT include the RO Membrane filter.