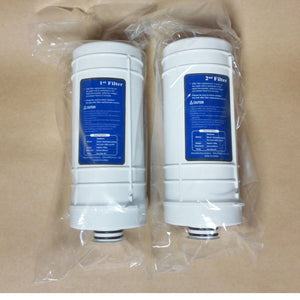 Compatible Replacement Filter Set for LIFE M7 M9 "FIRST" Generation Ionizer
Compatible Water Ionizer Replacement Ionizer Filter Kit for LIFE M7/M9 First Generation Water Ionizers
These filters remove chlorine and harmful substance as well as makes water taste better.
Using high quality material only.
This is a compatible replacement filter made with Korean FDA Certification by qualified Korean OEM manufacturer.
Made in Korea
FREE SHIPPING from Korea
Compatible Models: Life M7/M9 "FIRST" Generation
This filter set is NOT compatible with the Life "NEXT" GENERATION ionizers and the other models. PLEASE CHECK FIRST YOUR PREVIOUS FILTERS AND THE MACHINE!
Quantity: 1ea FIRST filter and 1ea SECOND filter
These filters are NOT compatible with the other Life Ionizers. PLEASE CHECK FIRST YOUR OLD FILTERS AND MACHINE!
The label and the package box may be changed depending on the OEM manufacturing.